Film-on-film technology to the rescue!
As a business owner, deciding on what machinery you are going to invest in can be daunting. As a matter of fact, in conversations with prospects the topic of film-on-film vs. net-on-film is often brought up, where the customer finds themselves torn between the two options with few resources to guide them on their way!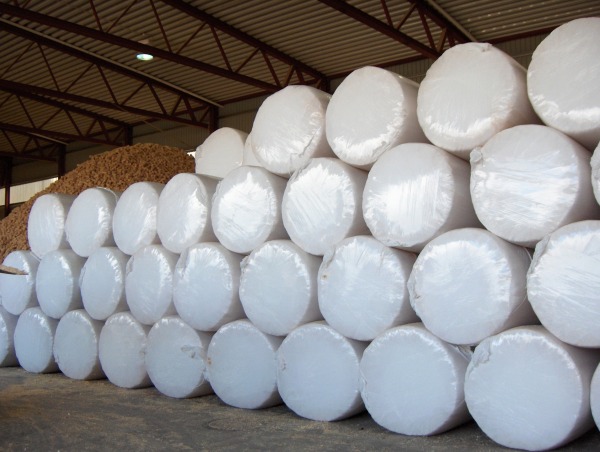 What is film-on-film technology?
If you happen to be unfamiliar with the film vs. net question, allow us to bring you up to date:
As the compactor chamber is finished applying high-density pressure to bale your material, a wide film is applied to the bale, keeping it intact as the bale exits the chamber.
Once it has been transported to the wrapping table, the bale, which is secured with wide film, is sealed shut using layers of wrapping film for optimal feed storage. The combination of these films is what we refer to as film-on-film preservation. Read more about our recycled film.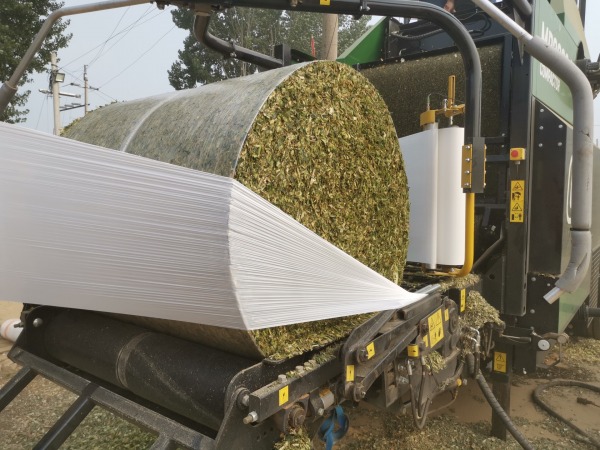 Film-on-film recommendations
Orkel representatives are not shy in admitting that we have one definite recommendation: Film-on-film. However, we are aware that every customer's situation is unique, and as businesses flows and ebbs one's needs often varies over time.
Why should I consider film-on-film bale preservation?

Below we have gathered a list of points to start you off, describing the benefits of baling using film-on-film technology to preserve and store your bulk material. Have a look, you may find that some of the arguments may have a positive impact on your business!
Remove oxygen for increased profitability
Choosing a high-quality wide film prevents oxygen from entering your bale, leaving a positive effect on your profitability.
How? Compared to your traditional wrapping net, the Orkel-enforced wide film offers a higher oxygen barrier, a quintessential factor for forage producers. Without an oxygen barrier, the free flow of oxygen will speed up the deterioration process of your feed, resulting in the nutritional value of your silage to drop.
By applying film-on-film technology using a high-quality wide film (instead of net), you maintain the nutrition levels, hence optimize your profitability, by greatly limiting the oxygen supply to your feed.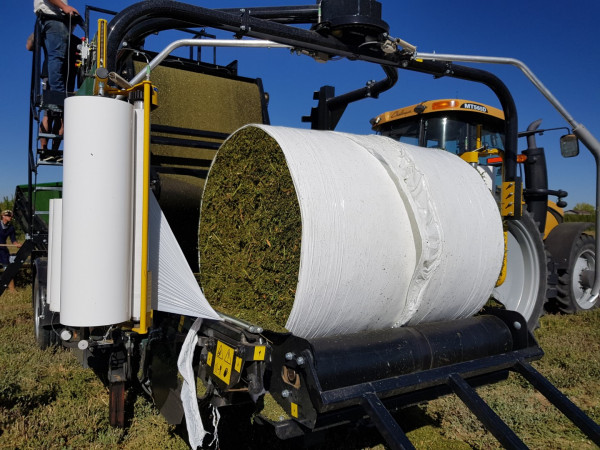 Simplified recycling
Applying wide film and wrap film made from the same material will open the door for wrap recycling and simplified wrap order placement. In terms of recycling, the act of using the same material in two types of wraps can grant you time saved.
Customers are relieved to avoid the hassle of separating the two materials for proper waste disposal, especially where recycling is required! When it comes to order placement, you may find that your logistics experience a boost as you are able to purchase both wide film and wrapping film from the same provider, where you previously had to coordinate between two suppliers.
Welcome, hassle-free recycling and loyal wrap providers.
Access recycled film alternatives
Continuing the recycle-related benefits: Using wrapping films provide you the choice of purchasing recycled options. Over the past years, the demand for recycled options to film has soared with the growing share of sustainability-driven farmers and contractors.
As a growing number of recycled film options are popping up, you can be certain there are recyclable options for wide film due to their close resemblance.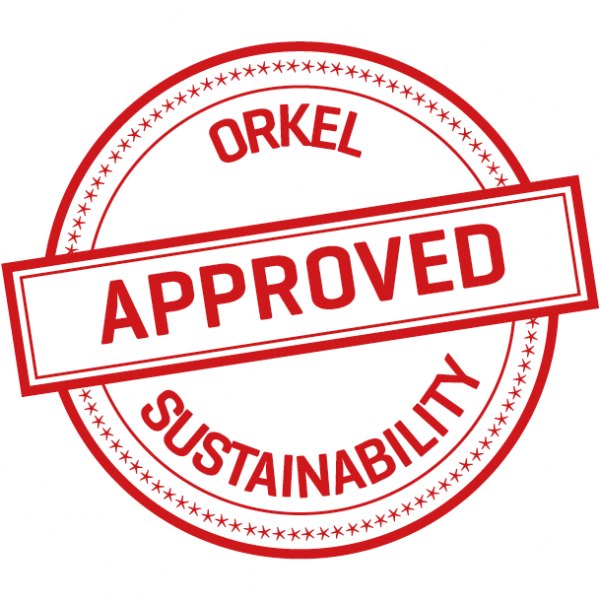 Increased bale density and enhance your logistics
The smooth appearance of the film-on-film bale is designed for easy maneuvering and market appeal. Using high-end machinery should reflect in the quality of your end product, which is where wide film provides some added qualities.
As the uniform layering of the wide film and the wrapping film is combined with Orkel's high-density bale wrapping technology, you are left with a compact and sturdy bale.
Not only does the sturdiness of the bale allow for easier maneuvering by your operators (from fewer human errors), but it is also appealing for the eye.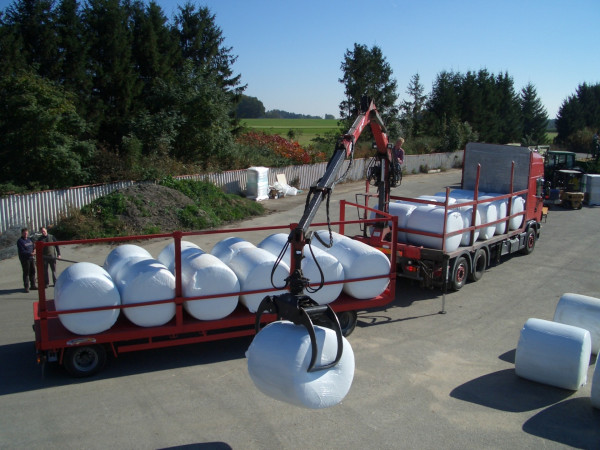 Seamless bale opening
Using one type of film, you can be confident of a seamless bale opening routine every time. This is one aspect that is left out of the investment consideration, naturally you'll want to open the bale and distribute its content!
By creating bales using only one type of material, you can guarantee a smooth bale opening if the bale opening equipment is compatible with the outer layer of wrap.
No uncomfortable surprises, only efficient operation.
Become an Orkel compactor prospect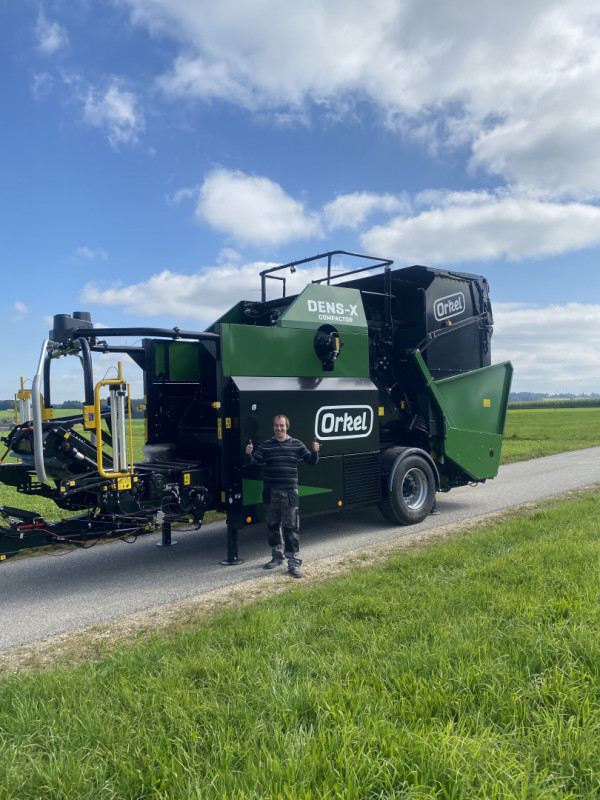 Enforced technology
The film-on-film technology is not only enforced within the Orkel company, but also approved by our film providers (who happen to be some the most prominent producers in the wrap market.) Working close with wrap providers, Orkel is dedicated to understanding the road to optimal forage preservation using the very best materials. It is the wrap providers best interest to offer a product that meets their customers' high standards.
Pricing and quality - hand in hand
After a thorough discussion on the benefits, we would also want to acknowledge that net film, and other similar options, often may be found a tad cheaper than the quality film that Orkel enforces. For our price sensitive customers, we understand why this argument might be of outmost importance. However, pricing and quality often go hand in hand, and as the Orkel team is consistently reaching for the best which this is exactly why we enforce it!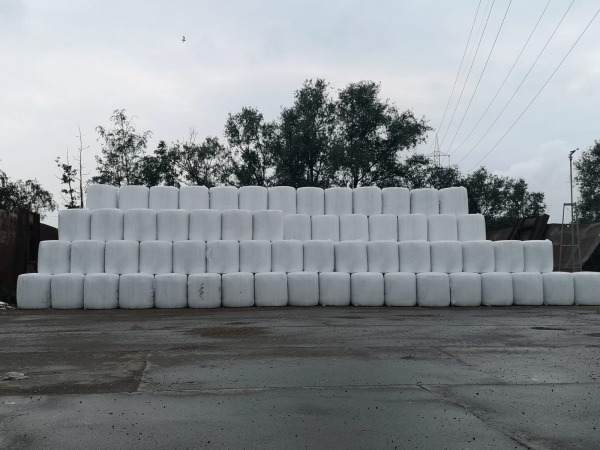 Swedish studies conducted on the area of net+film vs. film+film indicate that the film-on-film solution is slightly more expensive, as each bale will cost an average of 4 Swedish kronor, or 0,39 euros more per bale. Depending on the number of layers, be it four, five, six, seven, or eight layers, the increased cost for each bale using film-on-film rather than net-on-film are 4,8SEK(0,47EUR), 4,4SEK(0,43EUR), 4,0SEK(0,39EUR), 3,6SEK(0,35EUR), and 3,2SEK(0,31EUR) respectively.
However, since film-on-film improves silage preservation, you may find that film wrapping requires fewer layers than net wrapping. Allowing oneself to reduce wrapping by two layers, film-on-film may prove cost efficient (and time efficient) for your production!
Contact us today
We hope the above review might assist you in determining your future business investments with greater confidence and ease. And if you have any queries regarding our film-on-film technology, make sure to reach out by emailing us on sales@orkel.no, where our devoted sales personnel is ready to assist you.